298 total views, 1 views today
TUI fly Belgium serves 111 destinations that are now available through Peakwork Player Hub. One way to try to better market its seats in all markets.
TUI fly Belgium offers more destinations
Founded in 2004, the airline operates a fleet of 27 aircraft. Its network consists of 187 lines to more than 111 destinations in the Mediterranean, Red Sea, Caribbean, Canary Islands, Cape Verde, Africa and the United States.
The base of the airline is Brussels Airport, but they also operate flights from nine other bases in Belgium, France and Morocco.
The advantage of being available via Peakwork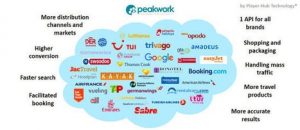 The Player Hub network connects more than 45 flight providers, more than 40 hotel providers, approximately 90 international tour operators and package providers, as well as additional services.
This product portfolio is used for dynamic package and product distribution. TUI fly offers its flights to the Player Hub network in addition to its own distribution platform.
The TUI Group wants to make the most of open technologies
Peakwork was founded in 2009. The company uses a decentralized data approach through the use of "cache", which means that searches are often faster and require fewer parameters.